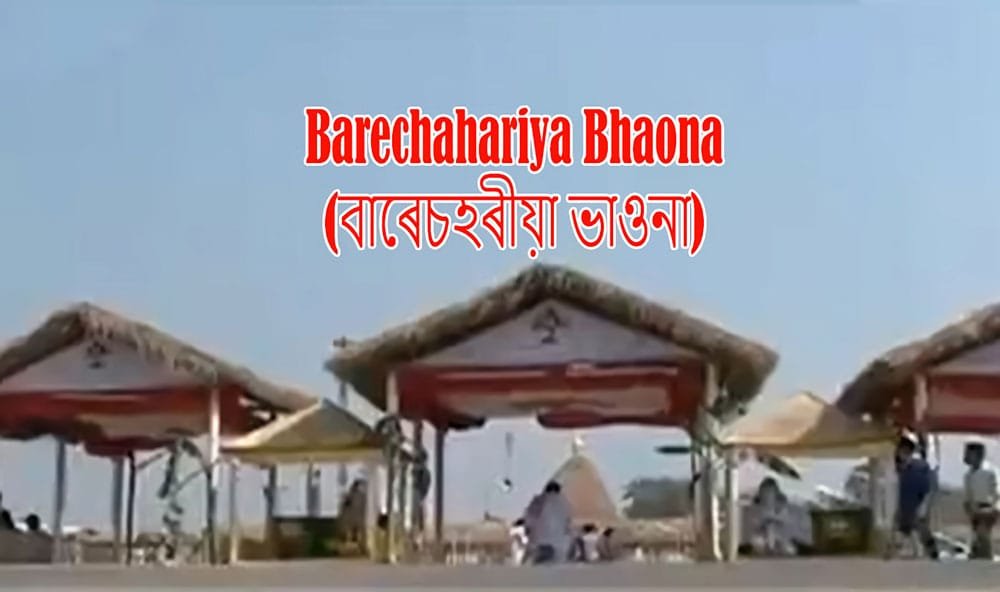 The Barechahariya Bhaona (spelt in Assamese as বাৰেচহৰীয়া ভাওনা) is an drama festival. It celebrates the 200-year-old legacy of theatre.
Time of The Festival
The Barechahariya Bhaona is organised at the duration of five to six years. This theatre fest is held at the usually nondescript township of Jamugurihat in the Sonitpur District of Assam.
History
The original concept of 'Barechahariya Bhaona' is credited to Hukai Dekagiri. He held it at the paddy field known as Raghudoloni-Pothar in the Pasigaon Village know known as Jamugurihat in Assam way back in 1797.
The Present Format
The present format of the Barechaharia Bhaona' has undergone a massive transformation during the span of the last 220 years. when
Duration
The 'Barechaharia Bhaona' is held every five years on the full moon day of the Assamese lunar month of 'Chot'. This period coincides with the Gregorian or English solar calendar that usually falls in March or April).
The Present Diversion
Notably of late, the local residents decided to celebrate this popular theatre event on the full moon day of the Assamese lunar month of 'Fagun' that generally falls in the Gregorian calendar duration spread across February or March).
The Logic
This diversion has been decided upon to ensure that the 'Baresahariya Bhaona' does not conflict with the annual thunderstorm known as the 'Bordoichila' ("thunderstorm") in April.
Significance
The 'Baresahariya Bhaona' is widely known for the depiction of a culture wedded to religion.
In fact, this rich convergence has rendered this theatre festival a vibrant fabric and this religio-cultural pillar has enabled the 'Baresahariya Bhaona' to prosper over the summers.
The other significant aspect is that down the years this rich Assamese theatre tradition has been retaining its typical storytelling feature.
The Typical Aspect
The neo-Vaushnavite form of 'Bhaona' represents the story dramatization from the Indian epics — the Ramayana, and the Mahabharata, as well as the ancient Hindu Puranas.
The Present Genre
The present day format of the 'Baresahariya Bhaona' follows the style initiated by the Assamese Vaishnavite saint Mahapurush Srimanta Sankardev. The bhaonas depicted with Bhakti Rasa are in the form of various Raga and Tala.
Mahapurusha's Purpose
The prime purpose of the Mahapurush to go for the innovation was to wed the multicultural Assamese social milieu with the spirit of entertainment. The effort had gone a long way to promote the neo-Vaishnavism ethos as preached by Mahapurush Srimanta Sankardeva.
The Present Format
The present innovative form of 'Baresahariya Bhaona' was first organised in 1797-98.
The bhaona is led by Gayan and Bayan and it resonates to the sounds of Doba, Kanh, Bhortal, and Khol. This musical parade amidst the audience signals the commencement of the 'Barechaharia Bhaona'.
Tracing the Roots
The roots of this innovative and varied theatre tradition can be traced to two centuries. Mentionably, during the 'Baresahariya Bhaona', the otherwise sleepy Assamese township of Jamugurihat livens up.